Cherwell EdgeGolf Club extends a warm invitation to all golf societies to enjoy our superb course and friendly Clubhouse atmosphere. A combination of a superb location, excellent course, great food and a team who are committed to making your day memorable – Cherwell Edge is the perfect venue for your society golf day.
Whether you're a golf society, small group of friends, work colleagues or a company wishing to entertain clients we can tailor a golf day to suit any occasion or budget.
We are able to maintain our society business year on year, 95% of our customers come back to & play Cherwell Edge again & again, some of whom actually join the club as members they enjoy the experience so much..
We are able to offer you as a golf society coming to Cherwell Edge a bespoke package that will suit your day, from greeting your guests to assisting with your scoreboard, from creating a specific menu to drinks & buggies, it can all be arranged at Cherwell.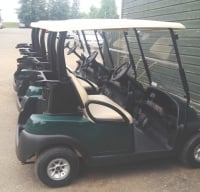 Cherwell's New Buggies available for Hire
Cherwell Edge can cater from 12 golfers up to100 players, on our magnificent 18 holes, you are able to play different formats, whether it be a Stableford or Team Texas scramble, there are many options for a good day out.
Your Day – Your Choice
We host many events at Cherwell Edge over the year, and we are able to host Charity Golf Events.
To check on availability or to discuss your requirements, please contact me directly on this email
proshop@cherwelledgegolfclub.co.uk
Or via phone at the club on
01295 711591 Option 1